Ladies, we are facing a terrible epidemic. Our work-wear wardrobes are in danger of becoming dull and drab, and with summer approaching, we have to take a stand.
Like you, when I first started working, I traded my usual clothes in for tailored trousers and basic, button down blouses. I downgraded everything to a basic black, and chose one lonely handbag to be my 'work bag.' I was every stereotype of a professional workingwoman that I'd ever seen. I thought I looked smart. But one day, my manager blurted out that I was making myself look old and tired in the clothes I was wearing. And coming from a guy, it was something of a revelation.
Why should we try to fit into the same mould as everybody else? Each of us deserves to feel unique and glamorous, day in and day out. These simple rules will help you bring style into your work place, no matter what you do.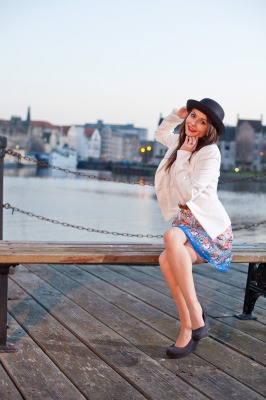 ★COLOUR YOURSELF BEAUTIFUL!
In the past, black was always considered a staple colour because it was cheaper, but these days there are plenty of great choices for tailoring in all the high street stores. And the best bit is, they're all going colour crazy too! If you're branching out colour for the first time, keep the cut simple and stick to a subtle, plain colour. These trousers from Dorothy Perkins are a steal at £22 and will make you look sweet and comfortable on a summer's day.