This past month Paris was buzzing with the glitterati of fashion. Paris Couture Week is one of the biggest weeks in the fashion calendar, and this week was definitely an event fashion's darlings couldn't afford to miss. Designers sent many different styles down the catwalk, but if you look closely similarities are to be seen amongst the couture creations.
One of the highlights of Paris Couture Week was undoubtedly Ellie Saab's fairytale dream gowns. Each dress was so simply exquisite; you couldn't help but fall in love with them. These are the dresses that brides to be – or brides that were – lust over. The collection was an assortment of breathtaking floor length gowns, each in the loveliest of shades; from pastel pink, to pale blue, to champagne. These gowns were effervescent walking down the catwalk, with sheer overlays sprinkled with crystals and pearls matching the colour beneath.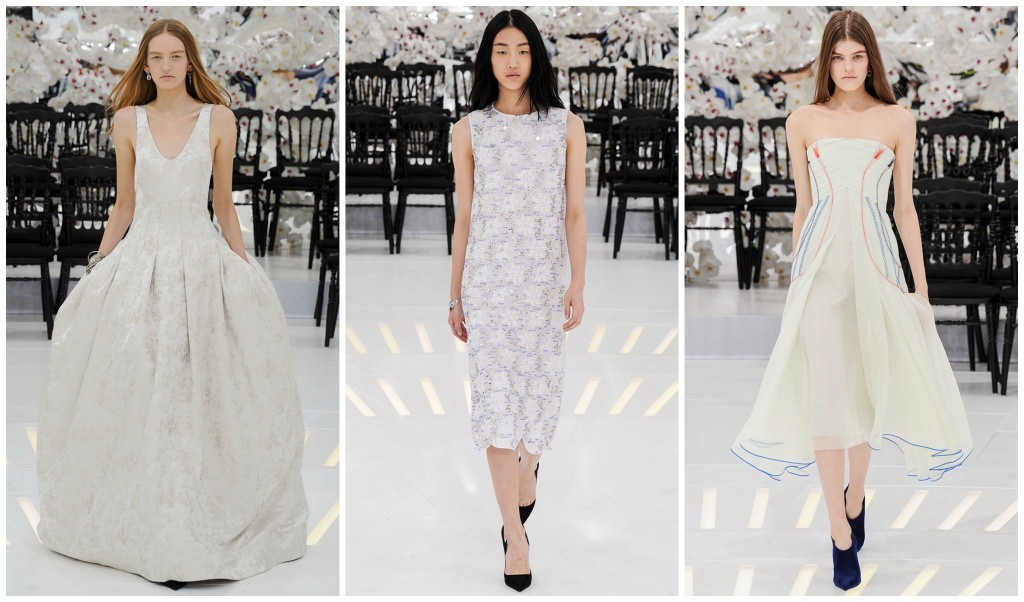 Another memorable designer that took Paris by storm last week was Christian Dior, showing more than eight looks in their A/W 15 couture show. Raf Simons started the show traditionally with ball gowns first. He put a modern twist on a Dior classic, with the return of the three quarter length dress. Laced bodices are what made these duchess dresses so elegantly structured. With an eighties revival of the jumpsuit – silk, with detailed embroidery- and long patterned coats, including a grey mink worn simply with black trousers. Coats with luxurious fabrics like mink, cashmere and chinchilla were worn to the ground, giving the looks simplicity, but at the same time maintaining deep sophistication.
Another designer whose jaw dropping A/W 15 collection stuck in our minds was Chanel, with embroided bodices and jackets. There was a diversity of looks, between cocktail attire with an A line for skirts, and dresses and pristine white gowns, reminiscent of the 18th century, decorated with imperial gold embellishment. Jean Paul Gaultier's dramatic gothic collection awed with striking colour schemes of black, red and gold. Gaultier's dark collection made a strong impression on this A/W 15, with big hair and chain laden skirts. And, to top Gaultier's dramatic collection, Eurovision Song Contest winner Conchita Wurst ended the show as his couture bride.