It's July and to give credit where credit's due, summer is trying to put in an appearance even if it is keeping us all waiting a bit longer than we'd like.
An advantage we Brits have by having to wait for the good weather to arrive is that we have more time to get our summer wardrobes ready. Now, the first thing everyone buys are their swimming costumes. Admit, it- as soon as the first ray of sunshine appears in back in April, we all race to the shops hoping that buying our bikinis will make the weather stay. So this gives us the opportunity to take advantage of our time waiting for hot weather to choose the perfect summer hat. Not all of us are 'hat people'. Some of us could put a bin bag on their heads and pull it off…whilst other's may need this article's help to find 'the one' especially if really big hats aren't your thing.
There are two types of hats that are very popular this summer which are a good starting point if you're not ready for a full on floppy hat. Firstly, we have the straw fedora which is a perfect edition to any summer outfit for trips to the beach, out with friends or having a lazy day in the garden. The great thing about fedoras are that they suit every face shape so there's less chance of going wrong with them. Depending on the length of the crown, fedoras suit adapt to different shapes. For example, as this fedora has a short crown it suits people with an oval shape face better. The black band around the middle makes pulling off a casual yet, summery outfit easy. This hat not only provides you with a fashionable accessory but with protection from the long awaited sun. Something that you do need to consider when buying a fedora is your complexion. As a fedora is so close to your face, especially like this one with a shorter crown, your skin tone shouldn't clash with the colour of the hat. You don't want to look washed out or outshone. You wear your hat, your hat doesn't wear you! You can find this fedora for just £10 from Topshop.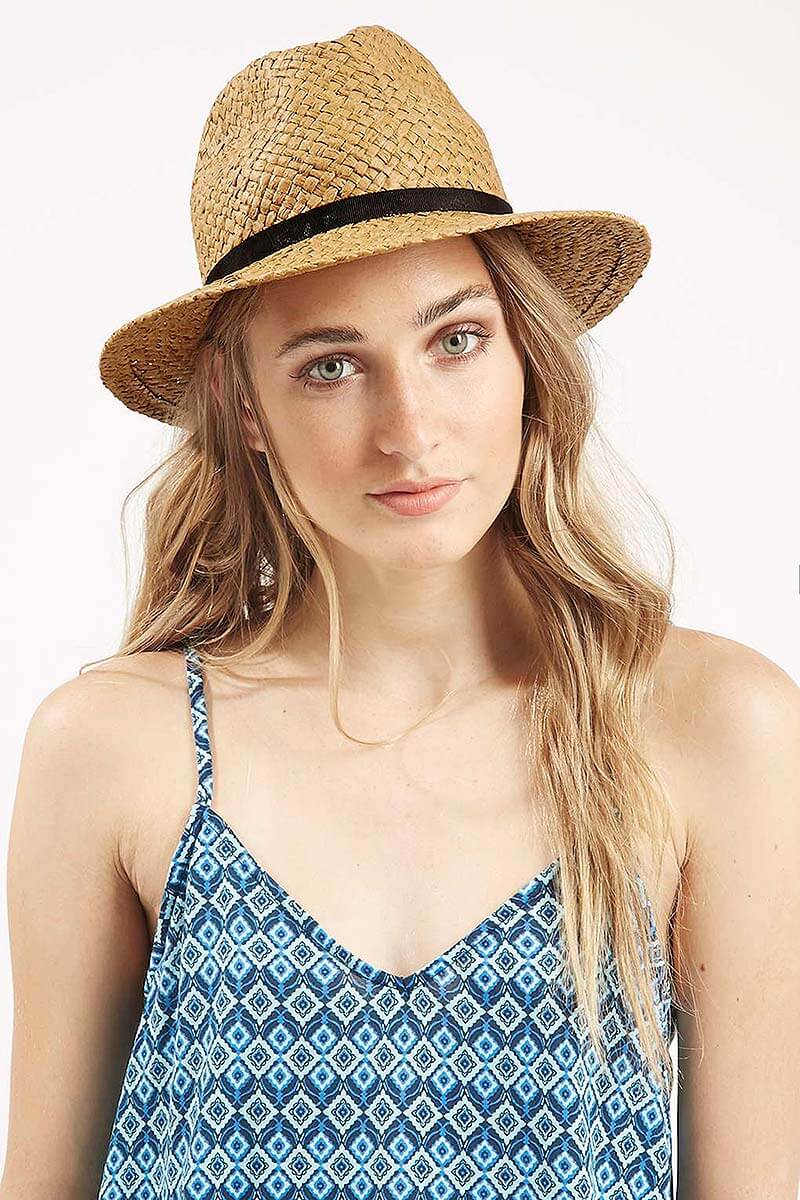 The second popular style of hat this summer is the visor. Even though, the visor doesn't cover your head like a hat it is the perfect stepping stone from going hatless to working the hat. A lot of people don't think hats are the right fashion accessory for them because they mess up their hair. With a visor, there's less chance of that happening. They don't cover your head but do provide shade which is great if you love reading on the beach or simply just hate having to squint when you head outside. They're also great for people who love sport because with the Velcro fastening at the back, the visor stays on your head for longer. This gives you a slight advantage over the people who are constantly bending down to pick up the hats that have flown off their heads. Just like the fedora, you need to consider what colour you want your visor to be. Plain, solid colours are great because you have more freedom matching them with future outfits. This particular visor not only comes in black but white and stone too. You can buy this visor from New Look for just £3.